The FATCA Registration Tool is our enriched version of FATCA Registration Form 8957 and matches the order of the IRS Portal's version and contains skip logic to allow user-friendly data entry.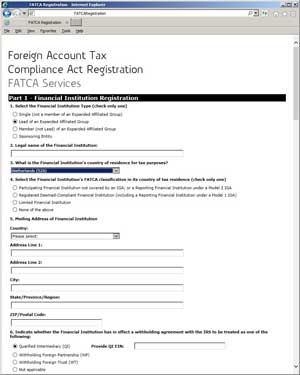 The tool was developed specifically for those companies that offer their clients FATCA Registration services to collect all required FATCA Registration information as securely, quickly, and user-friendly as possible.
There are two editions available: Basic (the registration form is placed as a local HTML file on your network; all data is collected, stored and managed out-of-the-cloud) and Advanced (the form is placed online; all data is collected, stored and managed on our servers). Both of these versions are demonstrated in our demo videos.
Feature
Basic
Advanced
Form located on your own network.
Data stored on your own network (out of the cloud).
Form hosted by ActiveReaction.
Data stored on ActiveReaction's servers.
24/7 access to your data.
No software installation required. Operational within 48 hours from purchase.
User-friendly data entry: the data collection form contains skip logic (causing irrelevant questions to be skipped) and was designed to reflect the order of the questions of the IRS Portal form's version.
Ability to edit data & complete form partially.
Print form data to PDF.
A software PDF printer is required. Several open-source solutions can be found online.
Your own corporate branding (optional, at additional cost).
Customise the form, e.g. to add, change or rephrase questions (optional, at additional cost).
Secure login procedure, allowing you to allocate FIs to individual users.
Overview of data collection completion status.
Instantly export data from all forms to a single spreadsheet for further analysis/reporting.